10 WAYS TO GET KICKED OUT OF WALMART
By: Irene Dimitroglou and Christina Gebo
1. When an announcement comes over the loud speaker, scream "NOOOOO! Make it stop! It's that voice again! NOOO!!!"
2. Sit on all the lawn furniture for hours, like you own the place, and when someone asks you to move or if they can sit there, scream in their face, "I don't know you! Stranger danger!" and then run away.
3. When the cashier is cashing in your items, and pressing the buttons on the cash register, go "beep beep beep" as he/she is typing the buttons in. When he/she asks you to stop, say "boop boop boop" instead. If this continues, say "beep boop bop" then "blop". If the cashier gets mad at you, beat him/her to death with a carton of ice cream.
4. Smash the person in front of you on the head with a ham.
5. Take someone's shopping cart and switch the items with stuff with the person's next to them cart.
6. Hide between clothing and then jump out and scream "PICK ME!!"
7. Go up to some old hag and yell "Grandpa/Grandma, you're alive! It's a MIRACLE!"
8. Go over the intercom and say "All items are now 100% off! Take what you want!" Then stand there smiling and enjoying it as people fight each other for stuff!
9. Make up non-existing stupid products and then go ask a new employee where the "Googly Moogles" are.
10. Tape a walkie-talkie to a Barbie doll and make it say "I know when you are sleeping, I know when you're awake, I KNOW WHERE YOU LIVE!!!!! BWA HA HA!!!" and watch a little girl's reaction as she walks by the Barbie.
Disclaimer:
1. Not all of these ideas were ours. Some came from here:
http://www.wattpad.com/217498-333-ways-to-get-kicked-out-of-walmart
2
. This whole article is a joke. Do not follow any of these ways to get kicked out of Walmart. For your own safety! We don't want you to get arrested!
Powered by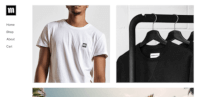 Create your own unique website with customizable templates.
Photo used under Creative Commons from JeepersMedia